Monday, April 24, 2023
Online One-Stop Shop Provides Homeowners, Renters, and Drivers Key Information About Clean Energy Rewards Available to Slash Energy Bills, Thanks to President Biden's Investing in America Agenda
Key Links:
WASHINGTON, D.C. — The U.S. Department of Energy (DOE) today launched the Energy Savings Hub — an online one-stop shop for American families and consumers to access the savings tools that President Biden's Investing in America agenda has made available to drastically cut energy costs. The new website—Energy.gov/Save—puts President Biden's clean energy tax credits and forthcoming rebates right at Americans' fingertips, helping people take control of their energy costs and have cleaner and more efficient options as a consumer—whether they are looking to purchase an electric vehicle, update an appliance, or make their home safer and more comfortable. Full implementation of the President's Investing in America agenda will put the U.S. on track to achieve the nation's goal of 2030 economy wide greenhouse gas emissions to 40% below 2005 levels. 
"From coast-to-coast, President Biden's Investing in America agenda will help keep money in your pocket—whether you're a driver, homeowner or renter," said U.S. Secretary of Energy Jennifer M. Granholm. "DOE's new energy savings hub is an easy-to-use resource to guide any consumer looking to access the enormous economic and health benefits from the President's clean energy incentives."
There's something for everyone at Energy.gov/Save, with features geared towards homeowners, renters, and drivers.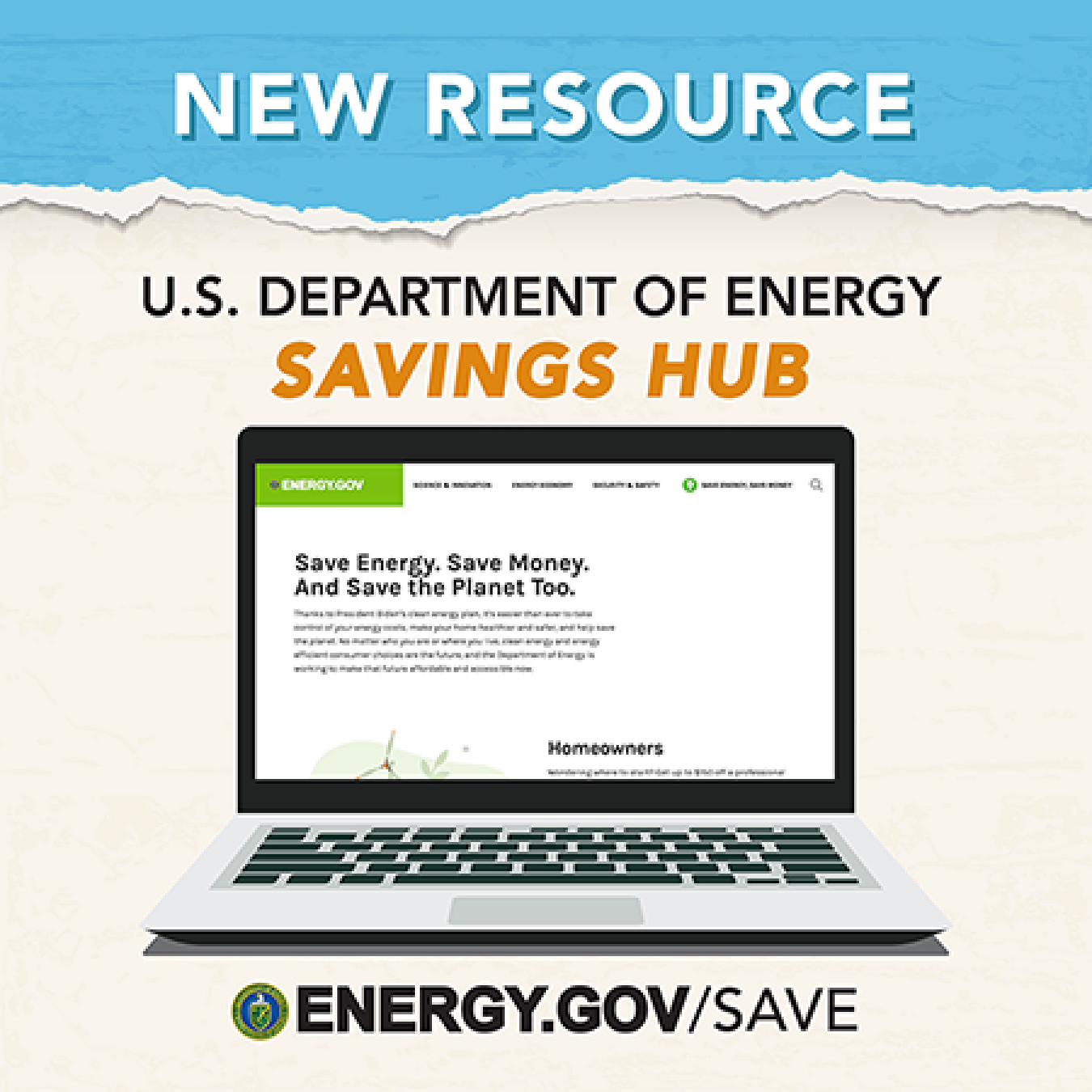 On Aug. 16, 2022, President Biden signed the landmark Inflation Reduction Act (IRA) into law. The law includes $391 billion to support clean energy and address climate change, including $8.8 billion in rebates for home energy efficiency and electrification projects.
These home energy rebate programs will help American households save money on energy bills, upgrade to clean energy equipment and improve energy efficiency, and reduce indoor and outdoor air pollution. DOE estimates that the historic home energy efficiency and electrification consumer rebates authorized will save households up to $1 billion annually.
Today's launch also introduces Sparky, a Consumer's Best Friend, who guides online audiences through short explainers of various clean energy appliances and technologies that qualify for incentives in President Biden's Investing in America agenda. Throughout the coming weeks, DOE will add new educational videos that explain the basics of clean energy technologies, such as heat pumps, rooftop solar, electric vehicles, and more.
DOE's Energy Savings Hub also highlights a variety of low or no-cost DIY energy efficiency tips that can reduce energy usage and energy waste.

Interested in learning more about new cost-saving incentives as they are updated on the Energy Savings Hub? Sign up for "The Current"—DOE's new consumer-focused outreach program. When you sign up, you will be the first to know about updates to incentive programs that can save you money
###
SOURCE: https://www.energy.gov/articles/doe-launches-new-consumer-energy-savings-hub
Join the Newsletter
What's better than free news straight from the source?